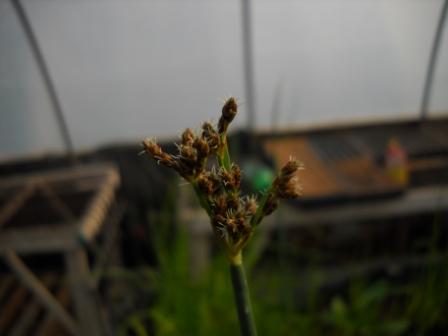 Bulrush Seed Head
Good fish cover and excellent for erosion control. Makes excellent duck blinds. Ideal for borders of fish ponds to provide good cover for game fish. Due to the sturdy stalk and root system, Bulrush will break wave action to prevent erosion and provide a buffer which allows other aquatic plant to gain a foothold and grow.

Bulrushes are of high value to many waterfowl from puddle ducks to diving ducks. The seeds and parts of the plant are the diet of many waterfowl, mallards, ring necks, ruddy duck, pintails and more. Bulrush makes a good food plot food wild duck and waterfowl.

There is a local lake close to were I hunt, it's called Rush Lake because it has a dense population of bulrush. Rush Lake is one of the best local spots for hunting wood duck, teal, pintail, mallards, and other water fowl.

Grows in water depths from damp mud to 3 feet of water. Can do well in most wetland conditions from Wisconsin to Florida but it is not salt tolerant.