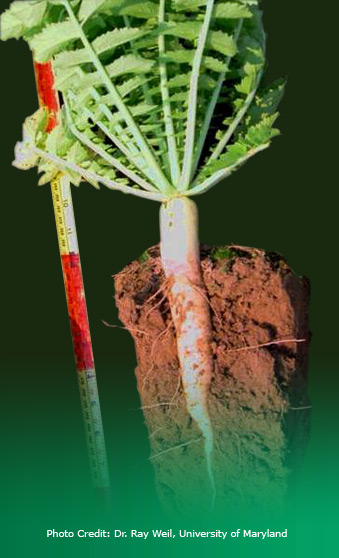 Developed by Dr. Ray Wail of the University of Maryland in 2001. After years of studying, it has now been released for sale. Forage Radishes will grow quickly, this allows them to smother out weeds. Deer will feed on the green tops and on the radish bulb until a few hard freezes; then the green growth will die off. The decaying plant will then help to break-down the soil.

Tillage radishes are member of the Brassica plant family that also includes Rapeseed, Turnip, Kale and others. It is a unique choice for a fall/winter cover crop that is relatively new to the United States. Itís been selected for large, fast growing -straight roots that have shown significant benefits in enhancing soil quality.

Plant 8 to 10 pounds per acre. Plant 30 to 60 days before you receive your first frost.